NEW NetPhone Plans. The Complete Business Phone Bundle.
by BusinessCom, on 10-May-2018 13:01:51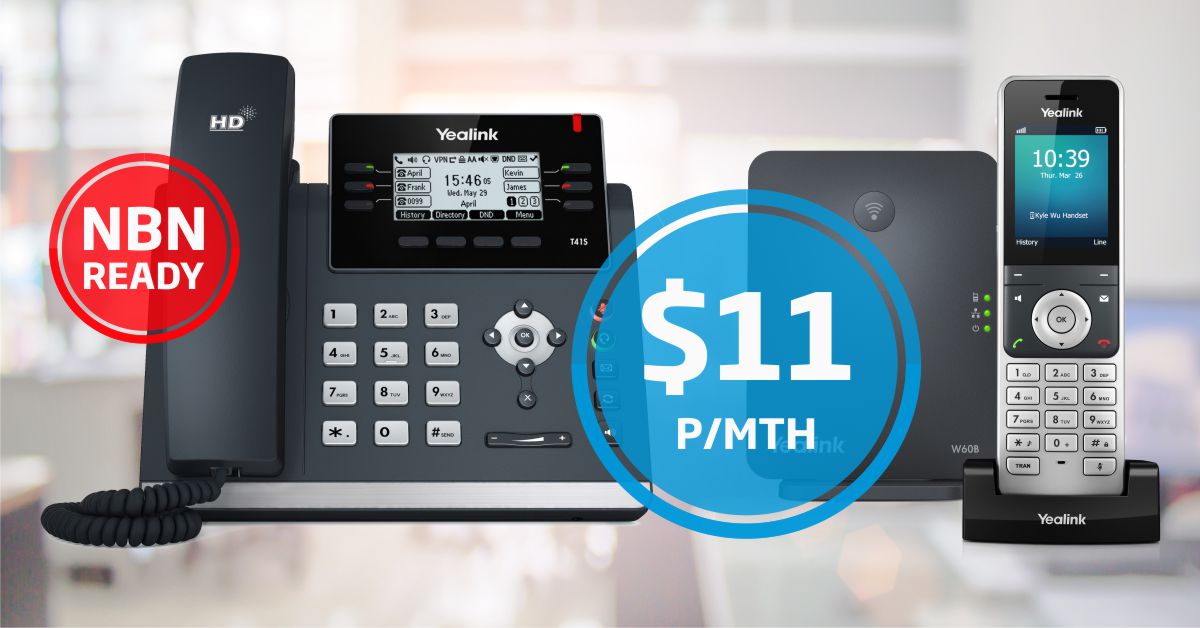 Introducing the new NetPhone bundle for only $11 per month. It comes complete with a business IP phone, a hosted PBX licence with all the enterprise grade features, and a business VoIP line including a dedicated phone number. You can also port-in your existing landline number if necessary.
Big Business Features. Small Business Price.
Business Grade IP Handset and Phone Number
The NetPhone bundle comes complete with a choice of either a business grade desk phone or a cordless phone. Choose the one that suits your business requirements. It also comes with an Australian landline number with an area code of your choice.
Cheap Call Rates and $0 Line Rental
Business NetPhones are a combination of hosted PBX and business VoIP, which together offer the best possible call rates and no line rental. Reduce your telco costs by replacing your traditional telephone line with a NetPhone.
Full PBX Functionality
A NetPhone is essentially a complete PBX phone system with capacity to add as many extensions as required. It's a perfect solution for a business that requires a PBX system that delivers state-of-the-art functionality without the need to invest in expensive hardware.
Business Grade VoIP
The NetPhone uses business grade VoIP to make and receive calls, ensuring the very best VoIP call quality. In addition, the VoIP lines are multi-channel SIP trunks, which means you can fully utilise the multi-party teleconferencing facility of the IP handset.
Full Range of PBX Features and Functions
Our hosted PBX platform is enterprise grade and comes with a broad range of features and functions, all of which are included. Choose the features that suit your current business requirements and update them as your needs change.
Completely Portable and Free Inter-Account Calls
You can take the NetPhone anywhere there is a suitable broadband service, even overseas. Just pick up the handset and plug it in at the new location. It will function exactly the same. And when you connect more than one NetPhone to an account, calls are free between handsets.
Business NetPhones are ideal for businesses looking for an out-of-the-box solution for their office phone requirements. And you don't need a telephone line to make it work. Just plug the NetPhone into an adequate broadband service and you're up and running. It's as simple as that.